1.
DREAM UPDATE
1. CONFIGURATION
To configure Dreamupd for the first use
1.1. How to run the program
1.2. Configuration
2. MIGRATION
To migrate from old Dream_Upd.mde to new Dreamupdate and other uses
2.1. Migration
3. DATABASE BACKUP MANAGEMENT
To configure backups and DreamCen client automatic update
3.1. 1. Backup configuration
3.1.2. Backups functions
4. SCHEDULE TASK
To configure schedule tasks for backup and software update
4.1. Scheduled task
4.1.1. Database creation
4.1.2 Tasks Schedules in Windows Server2003
1.2.
Configuring DREAM UPDATE
First of all configure the application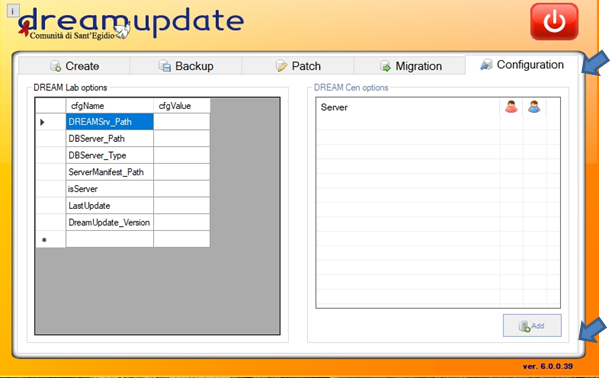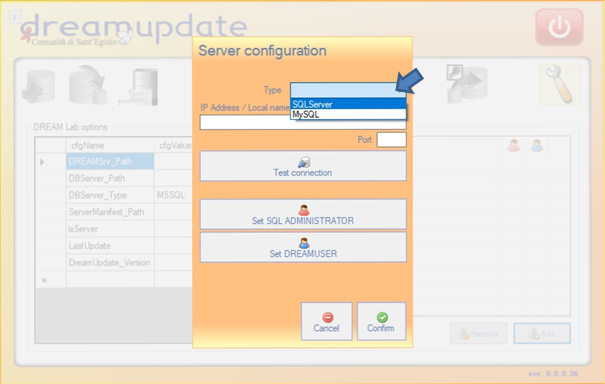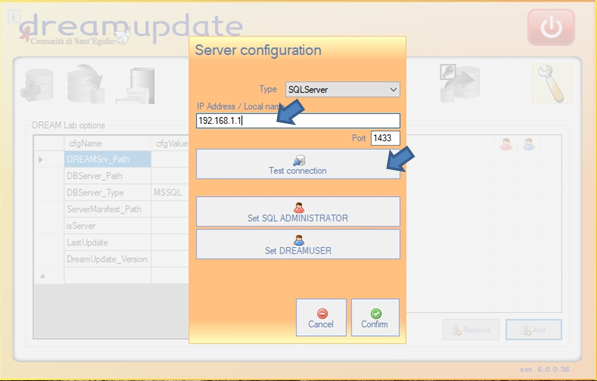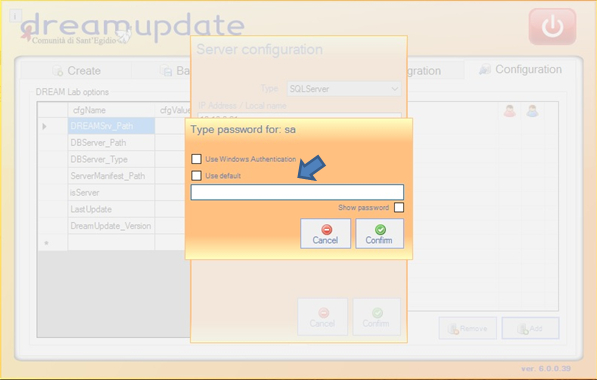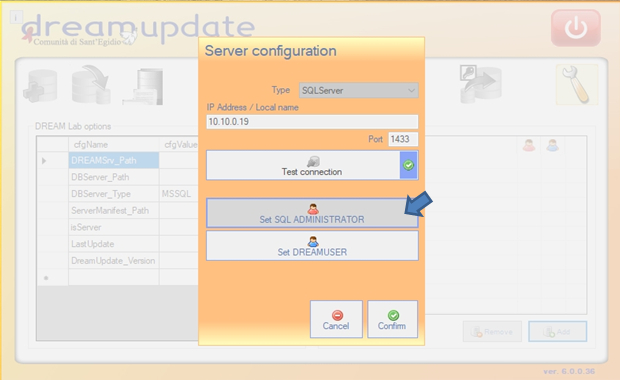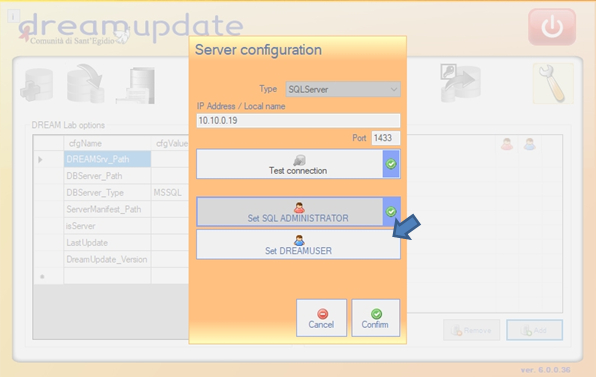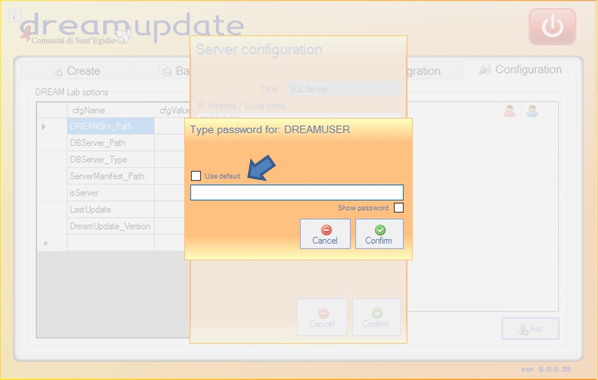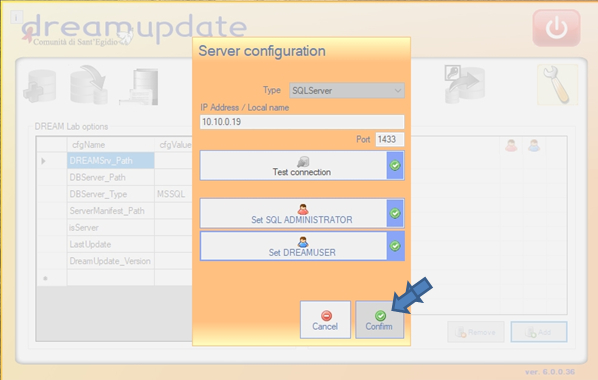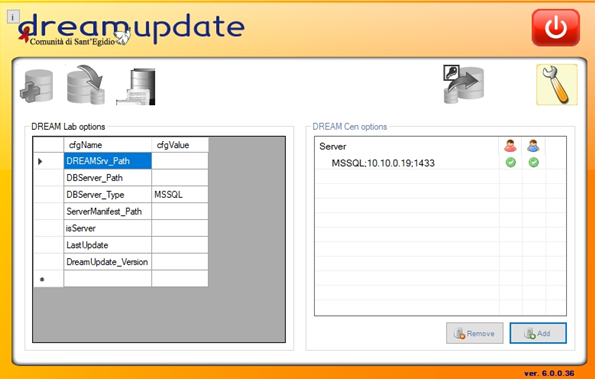 1.3.
Migration to the new DREAM UPDATE
This function is required to prepare the existing database to be managed by the new DREAMUpdate software. This operation must be done only once for database.
WARNING:
THERE ARE SOME REQUIRED OPERATIONS TO BE DONE BEFORE THE MIGRATION
– No one should use the DreamCen software during the processing
– First make a FULL DATABASE BACKUP
(using the DB Management software "es SQL.Management Studio")
Note: Migration can be used also to do others operation on the database like transform MSSQL in MySQL database but these use actually are not supported.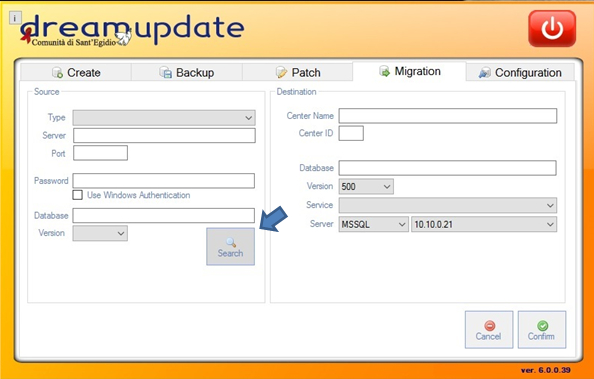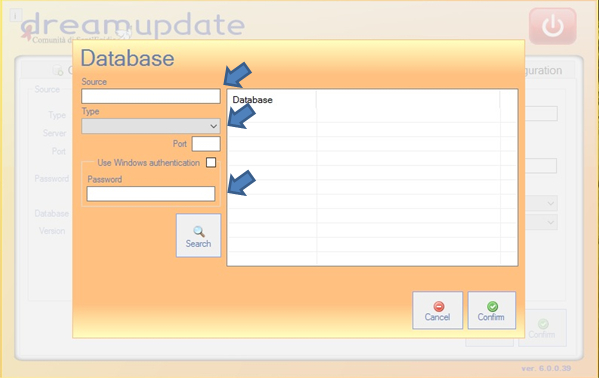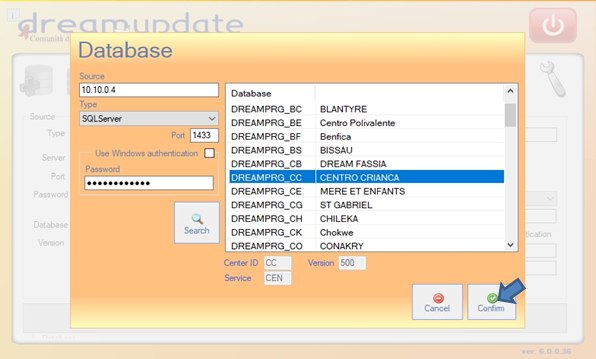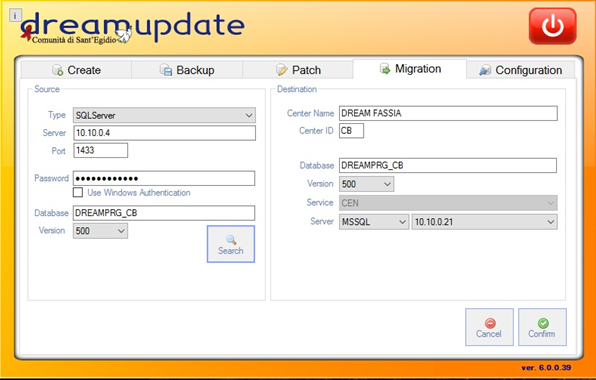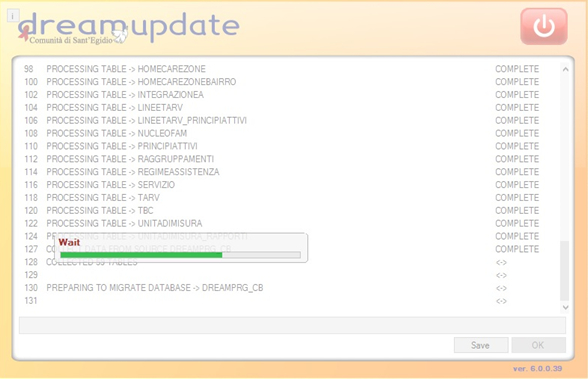 1.4.
Backup Management
Backup Configuration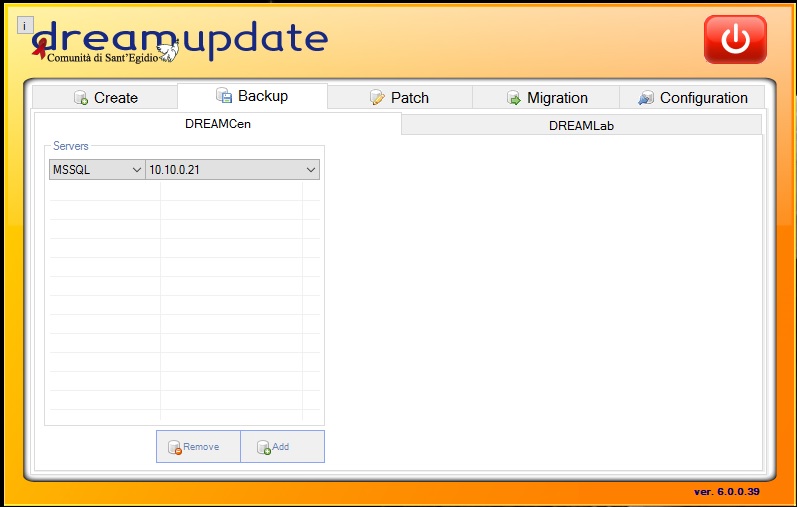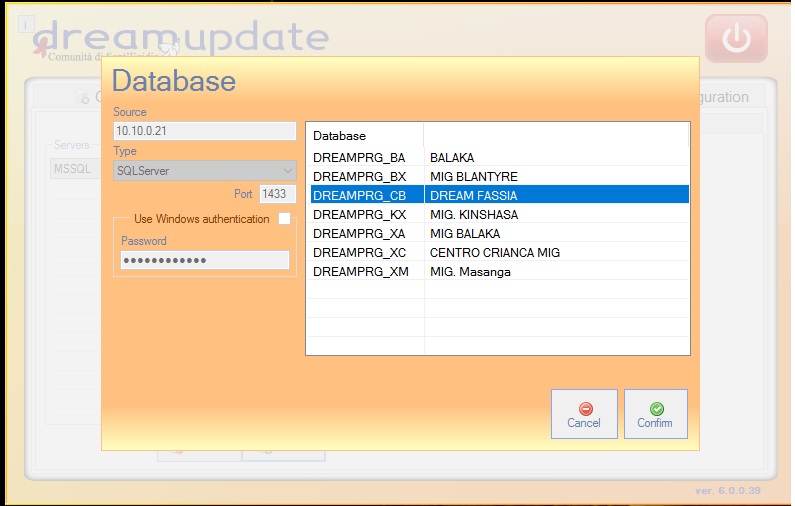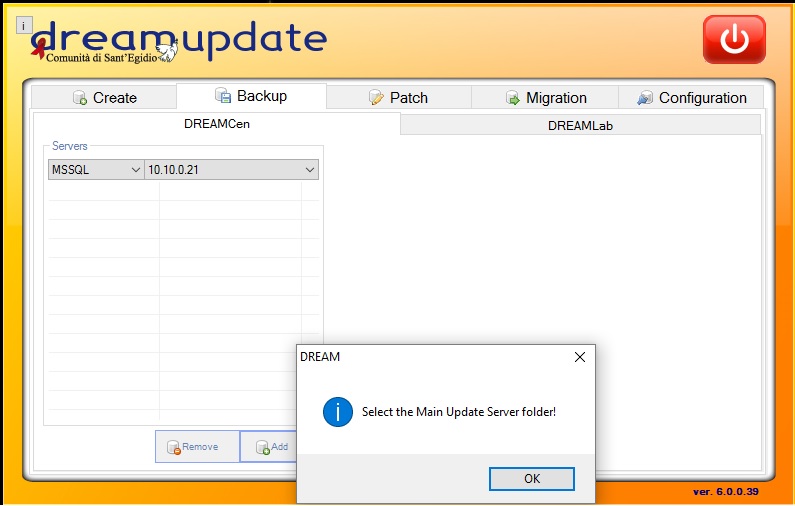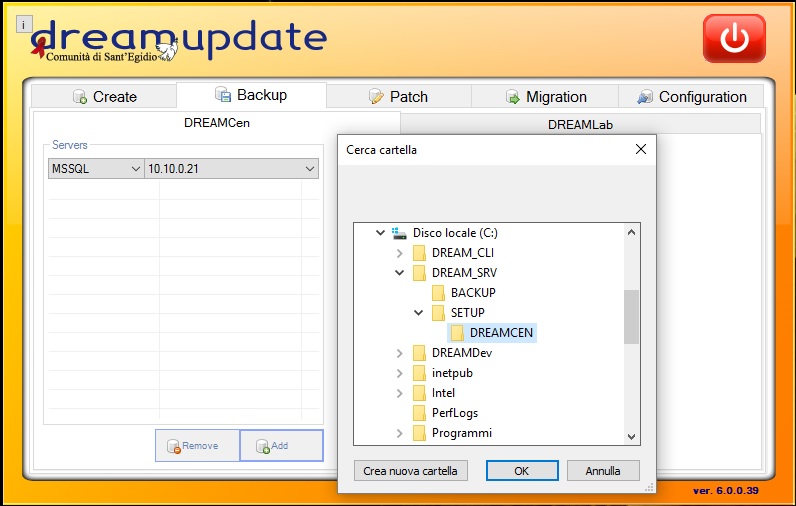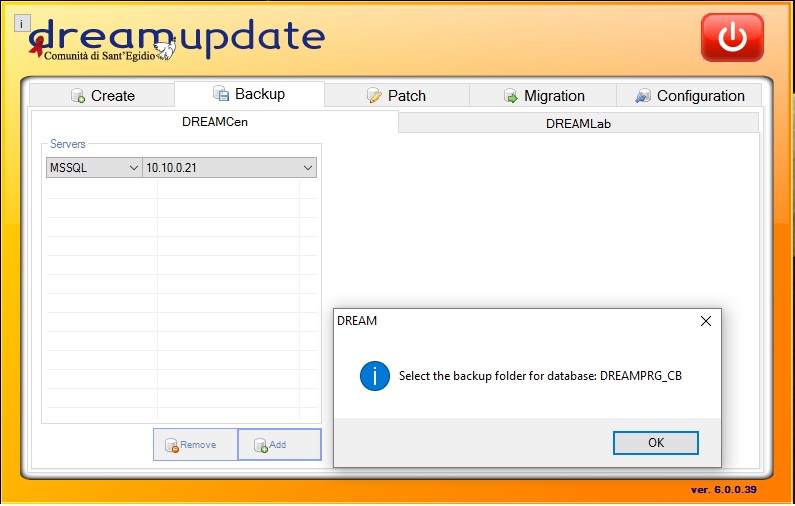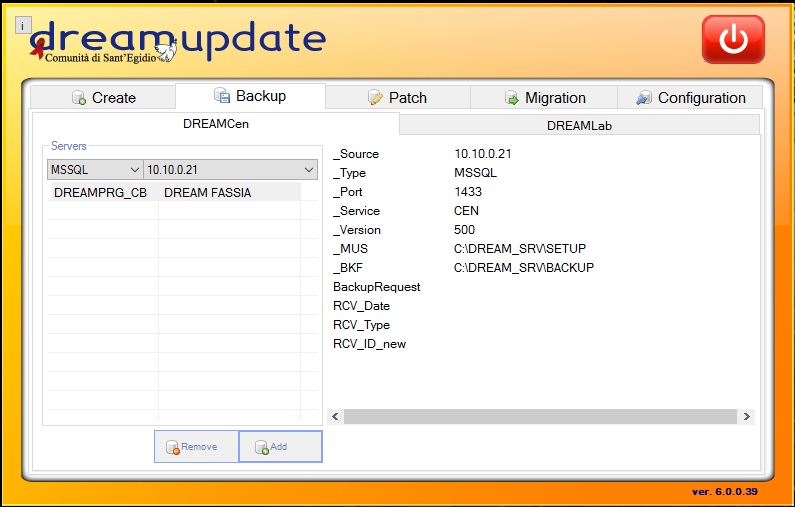 BACKUP FUNCTIONS
From this section you can create and restore backup and send to DREAM central control and backup service.The new dreamupdate permit also to automatically upgrade the dreamCen software with a scheduled task (see next section)

INCREMENTAL                       ->                 MAKE INCREMENTAL BACKUP
FULL                                       ->                 MAKE FULL BACKUP
AUTOMATIC                           ->                 MAKE SYNC BACKUP WITH DREAMAPI SERVICE
RESTORE                               ->                 RESTORE EXISTING BACKUP
SEND                                      ->                 SEND BACKUP(S) TO DREAM FTP
CLIENT UPDATE                    ->                 UPDATE DREAMCEN CLIENT PROGRAM
1.5.
How to create a Full Backup with DreamUpdate
Start dreamupdate

(usually the executable is in c:\dream_srv\dreamupdate folder)
1) Select the database
2) Click on "Full"
3) Annotate the backup destination folder shown in the field _BKF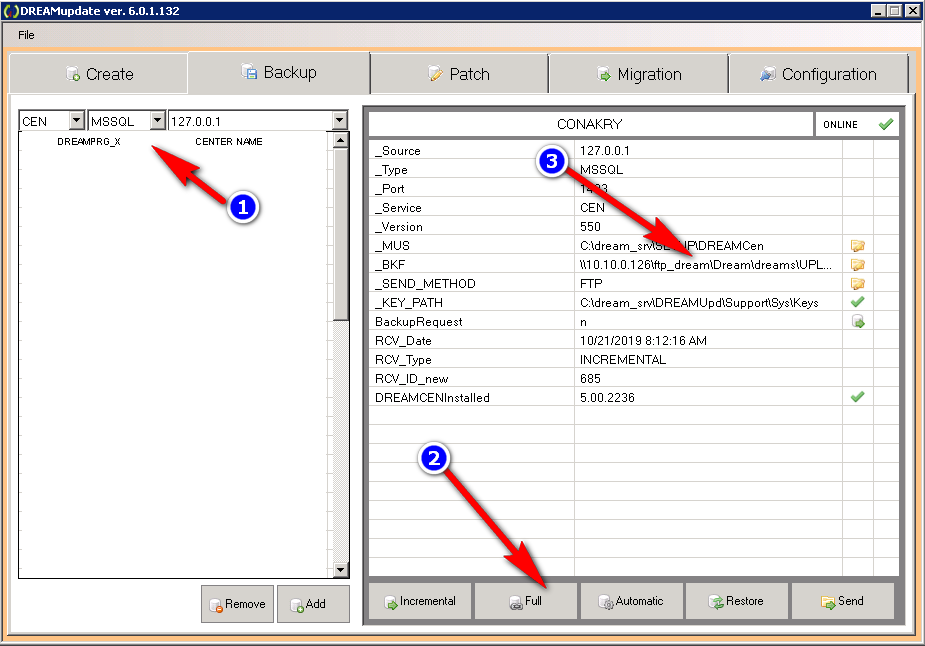 4) Wait for the "Database Backup: Complete" message box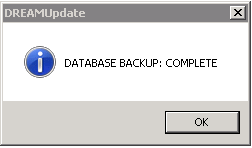 5) Use File Explore to find the backup file in the folder you have annotate in point 3

6) Finally remember to close the dreamupdate software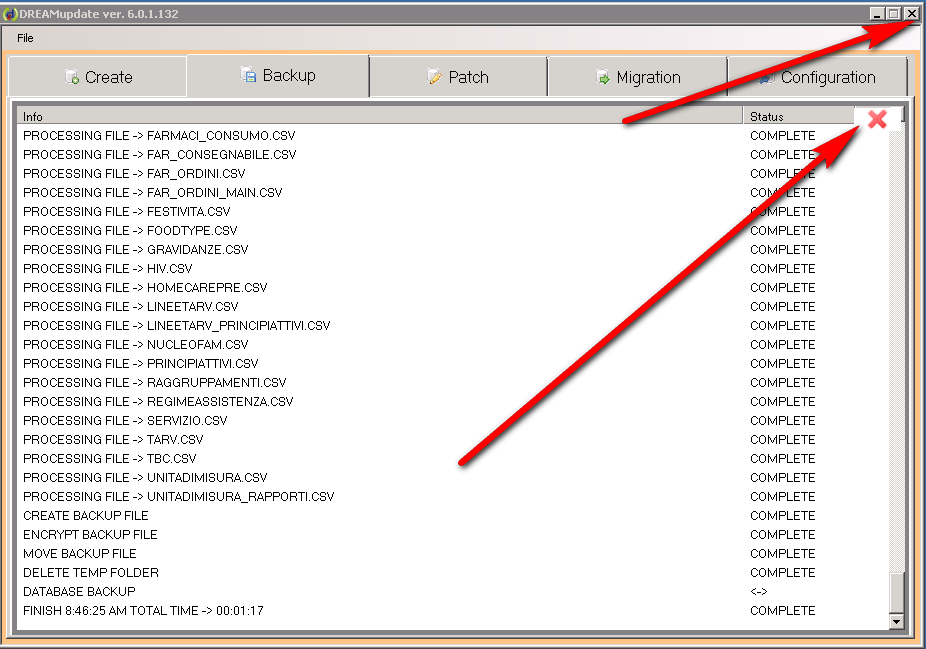 1.6.
Scheduled TASKS
Task Scheduler is present in all the various versions of Windows and helps the user to schedule the automatic execution of many tasks. In this case we configure two scheduled task both for the UPDATE of dreamCen software and for BACKUP and send. YOU CAN DISABLE the OLD dream scheduled tasks for the same purposes.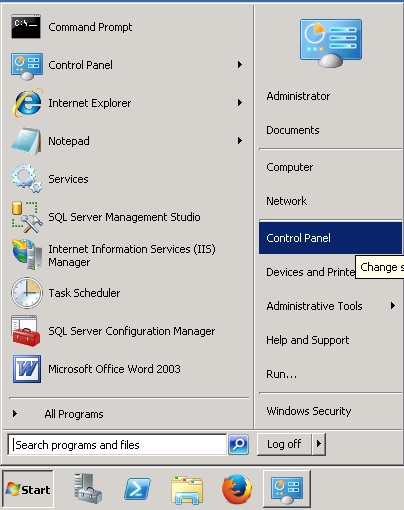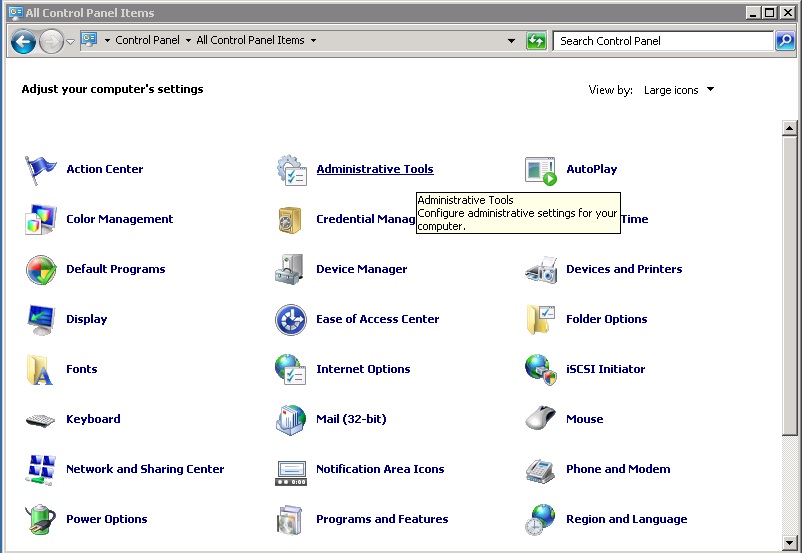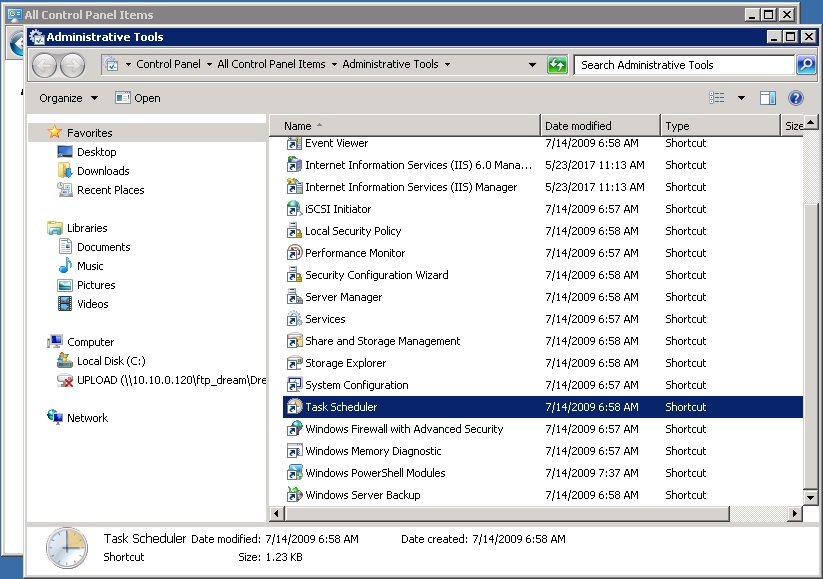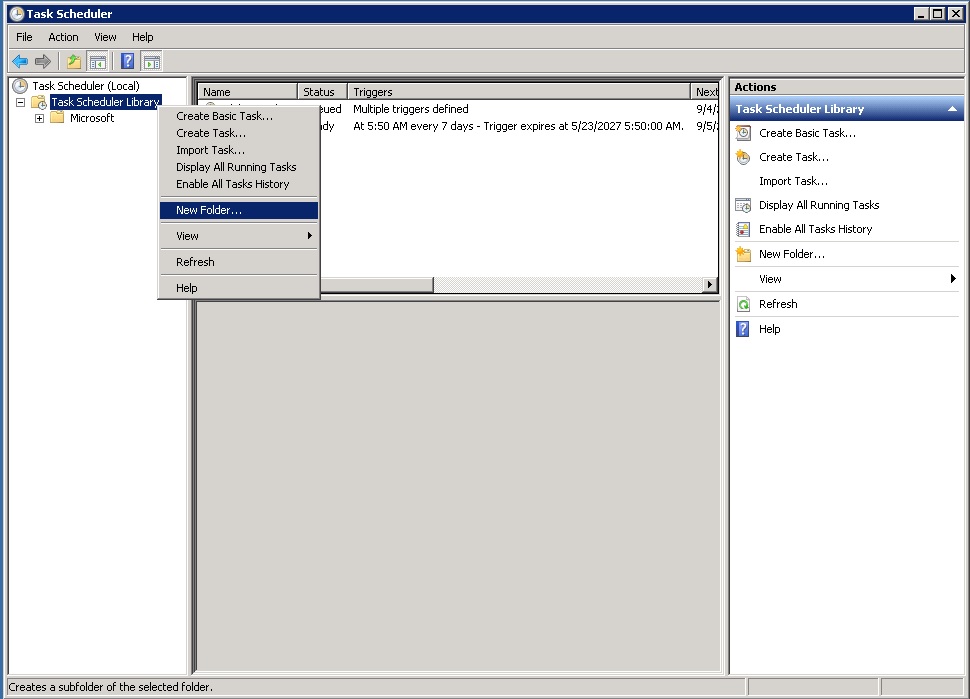 CREATE THE TASK TO BACKUP THE DATABASE ON THE CLOUD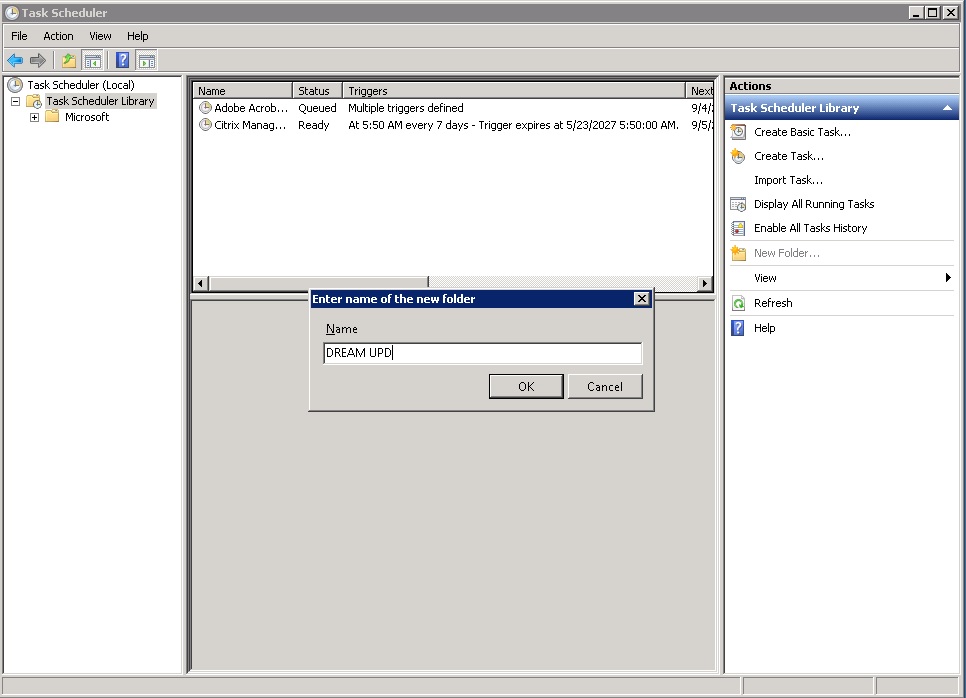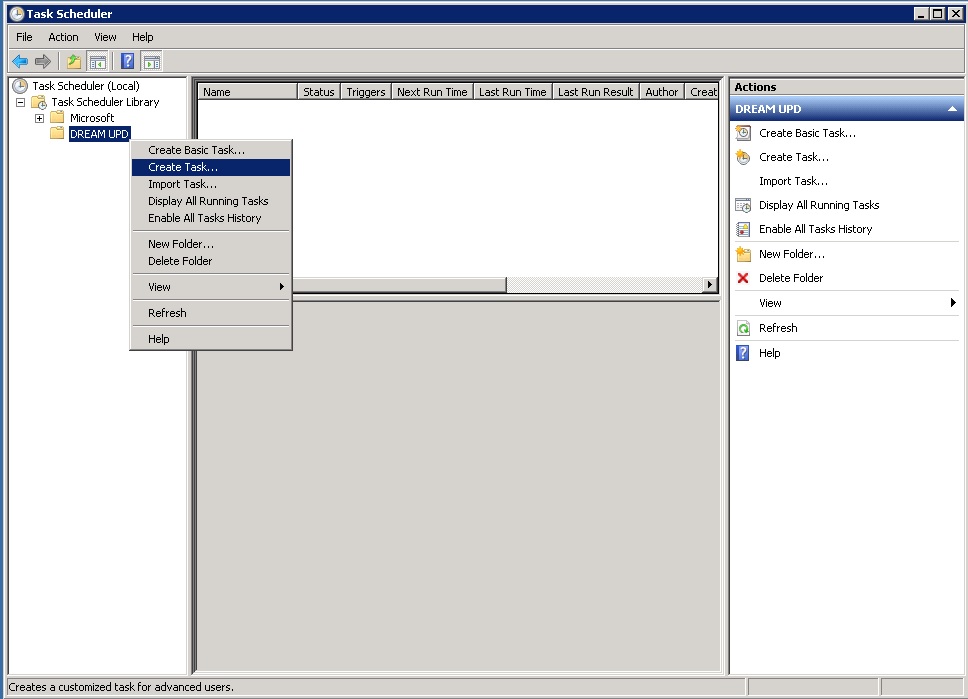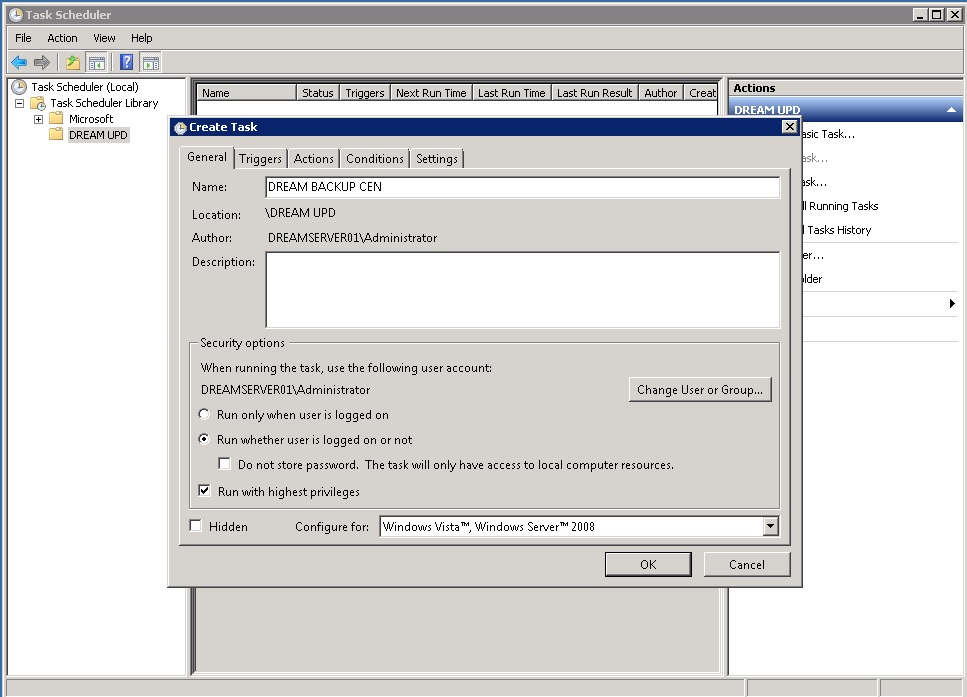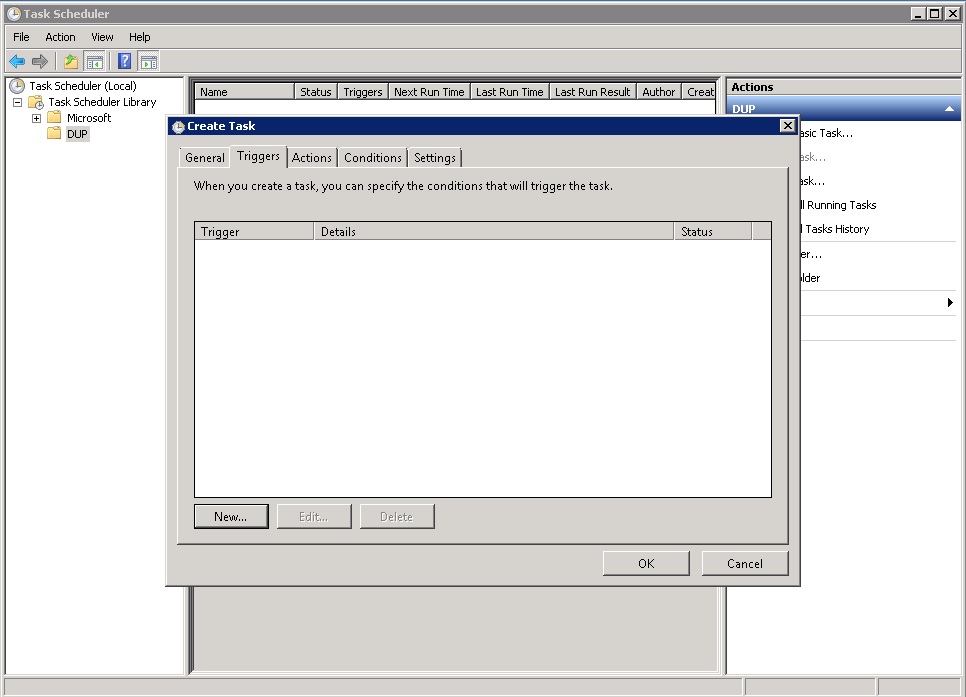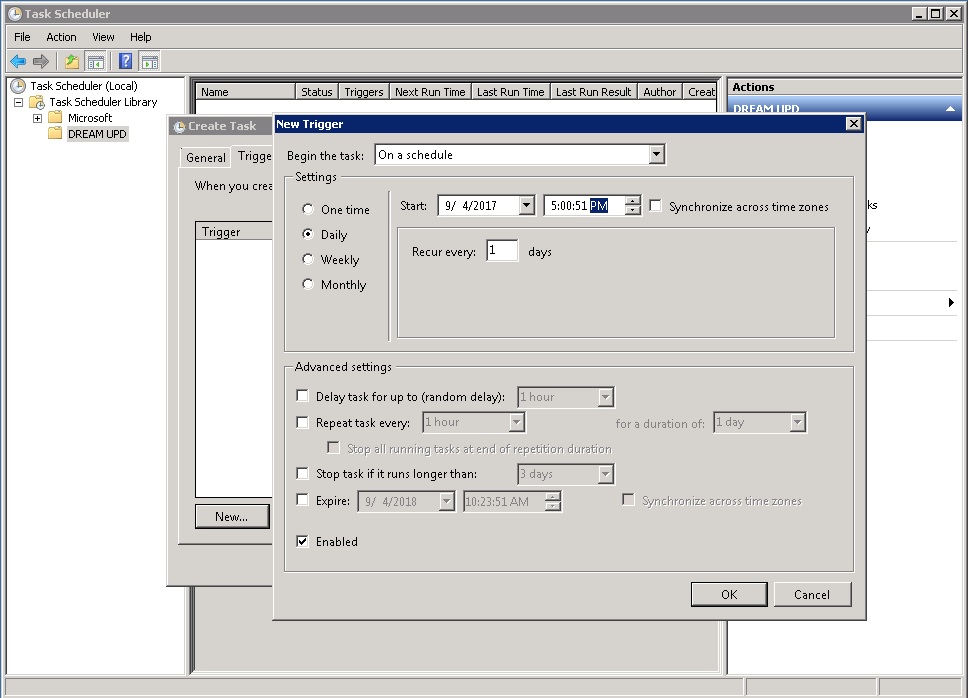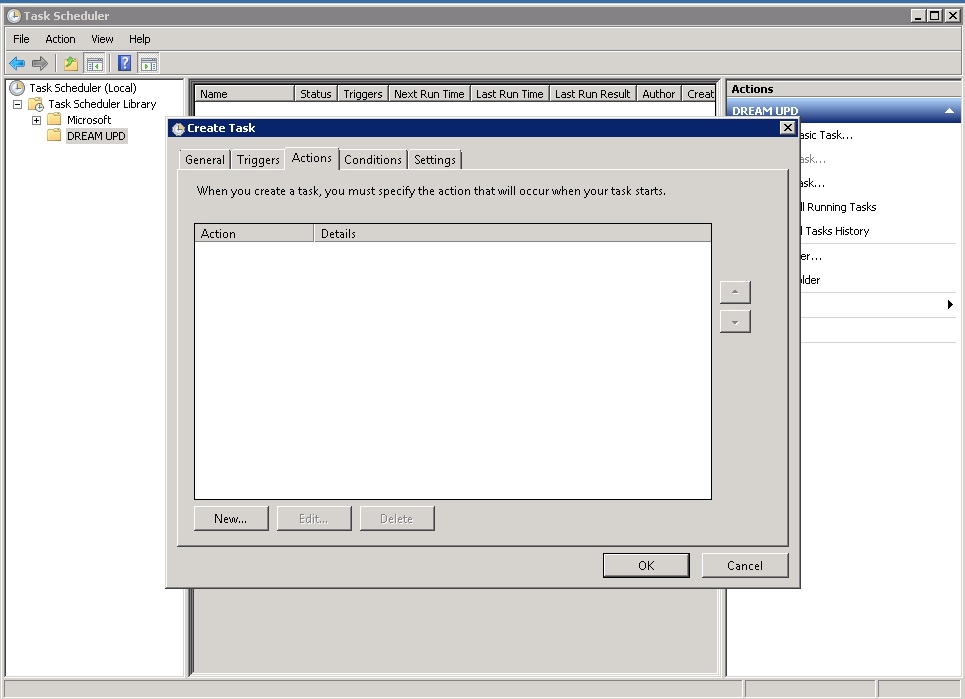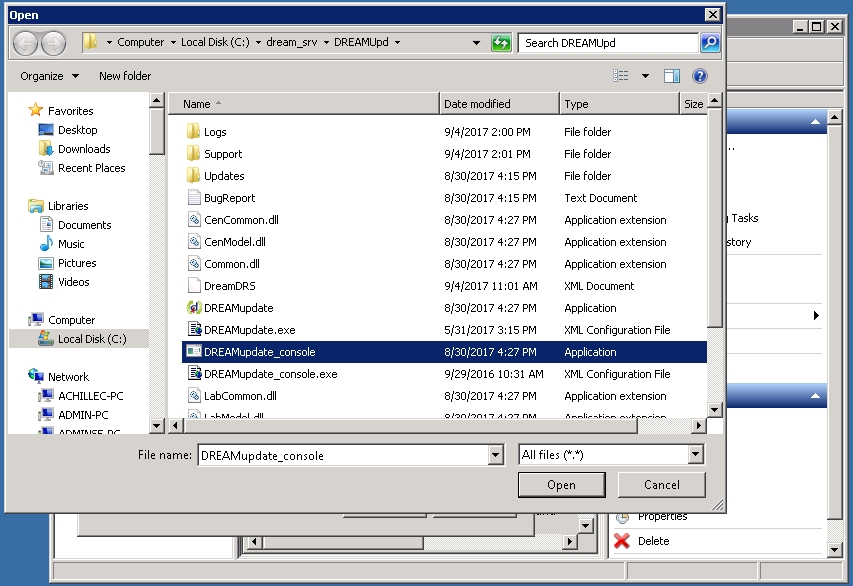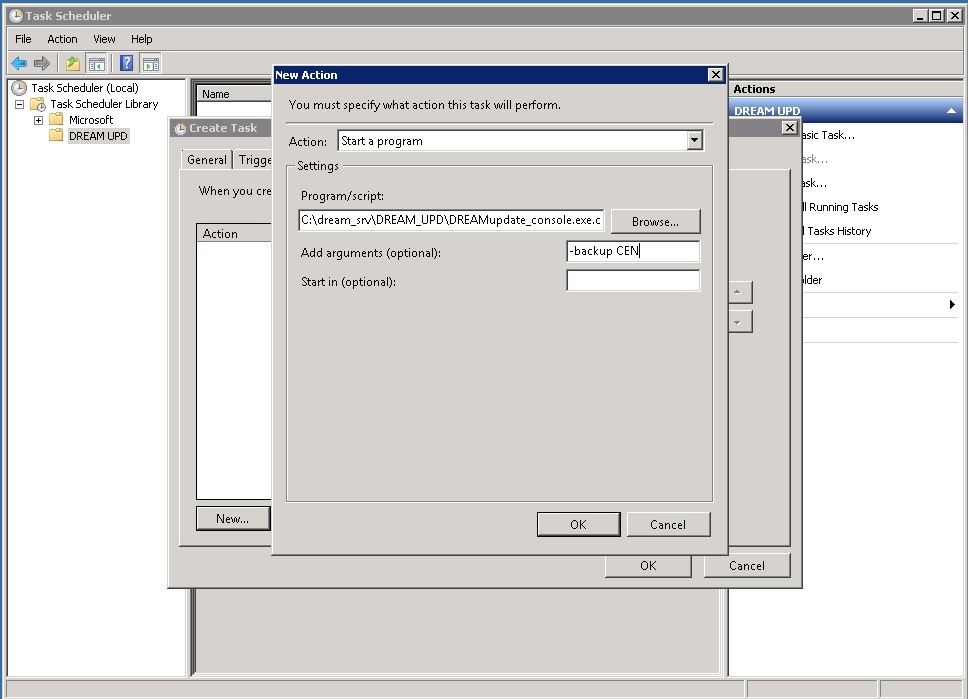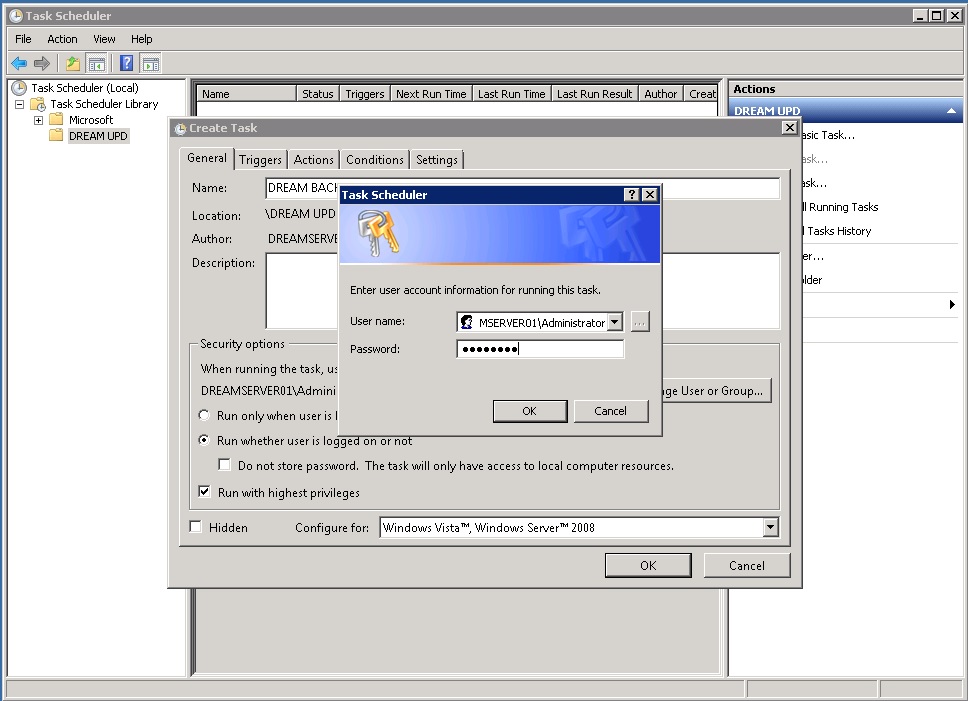 VERIFY THAT THE TASK IS ENABLED 
CREATE THE TASK TO AUTO-UPDATE THE SOFTWARE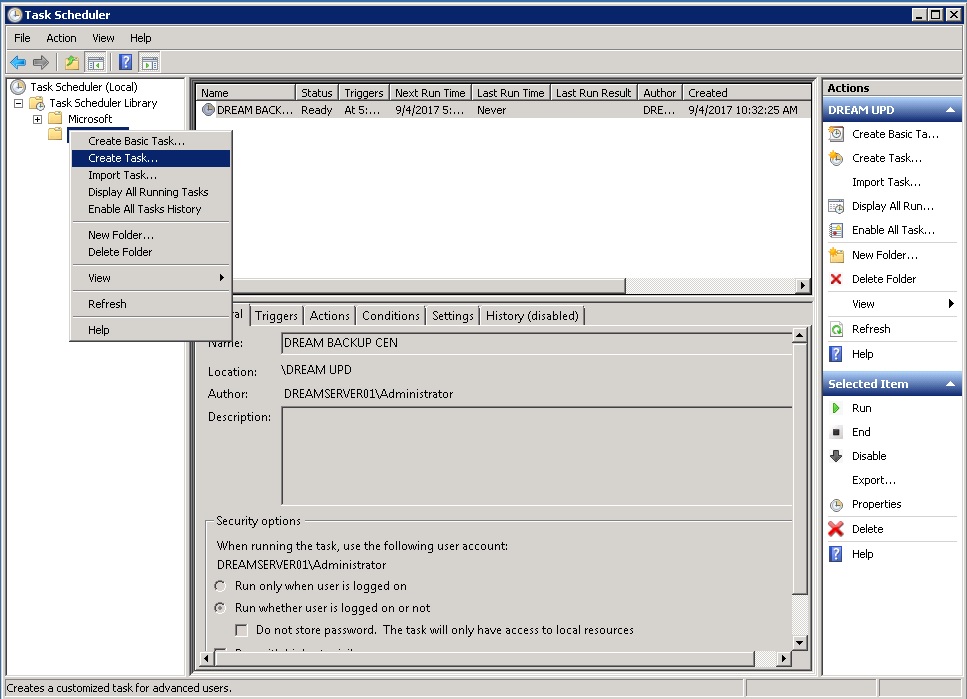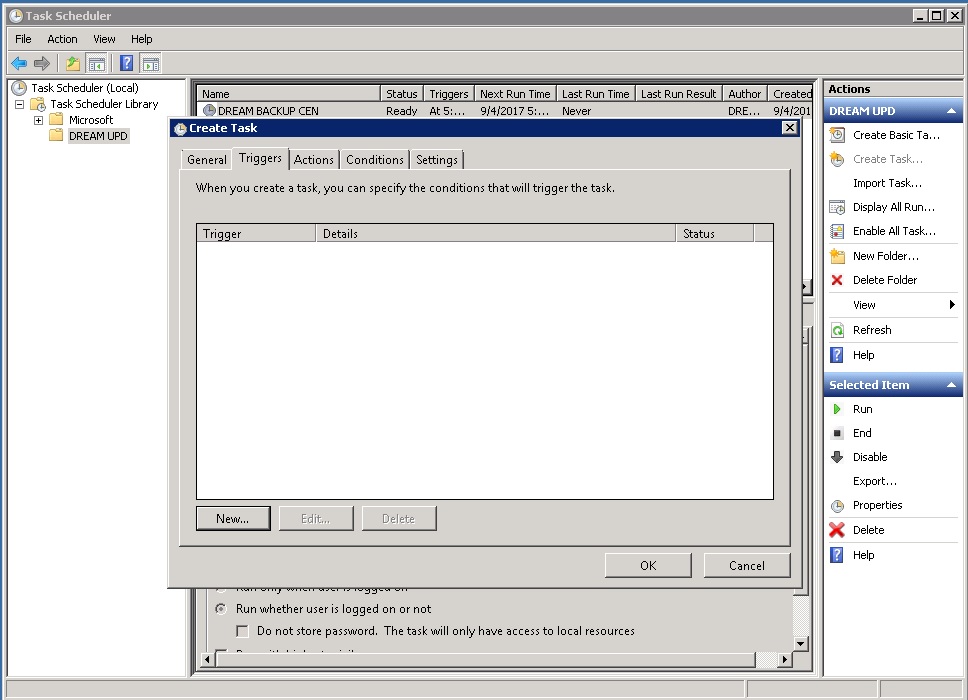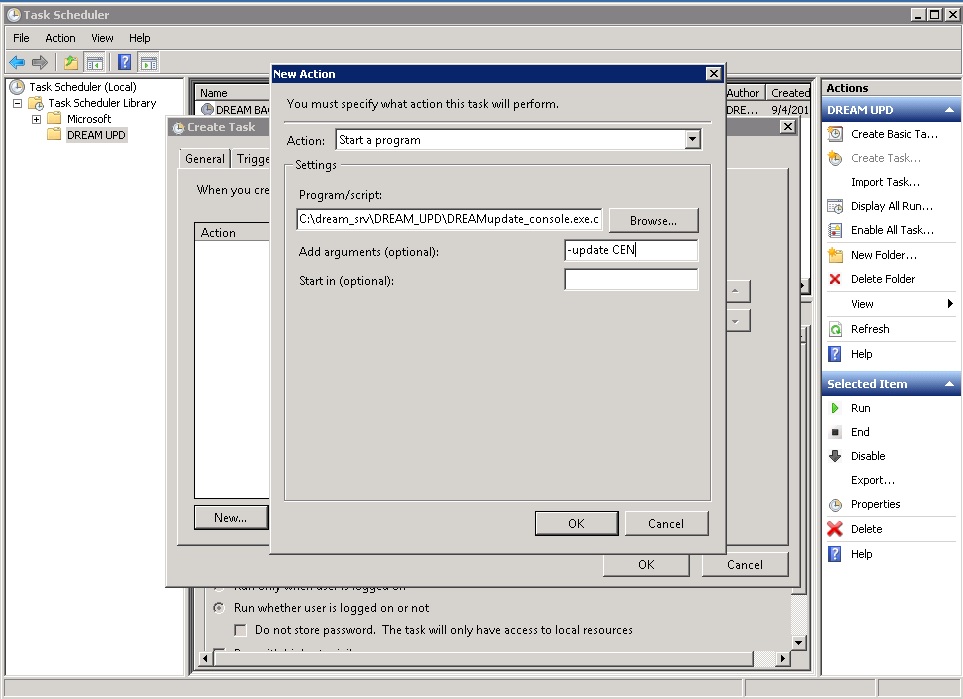 1.9.
Check missed appointments with dreamupdate console
To have appointments automatically marked as missed after a predefined number of days, you need to create a scheduled task that runs the following command:
dreamupdate_console -missedapp
or , if you want to specify a particular center:
dreamupdate_console -missedapp XX (where XX is the center code)
1.10.
Automatically import exams results from laboratory with dreamupdate console
Starting from release 281 DREAMUpdate software can import lab results via scheduled task
You have only to create a new task at the desidered hour specifying one of the commands below:
for those who use LAN:
dreamupdate_console -importresults LAN
for those who use XML/PENDRIVE:
dreamupdate_console -importresults XML
If you need to specify the path:
dreamupdate_console -importresults C:\DREAMLAB_RESULTS